Words of Praise from Satisfied Customers      
"The crystal bowl carrying case arrived today. It's a beauty and will be treasured by its recipient. 
Thanks again. Peace." – SS, New York

"All 3 cases are amazing. Perfect and beautiful! Thank you for all your help. I sincerely appreciate it! 
I'll be referring people your way." – MC, Las Vegas 

"Thanks for the great service…I am really glad to have this case. Cheers." – RL, Manitoba
"The cases are of high quality and very sturdy, exactly as you described.  Thank you." -AC, Australia
BONUS: ALL Wisdom Light Bowl or Pyramid cases ordered here at BestBowls.com receive FREE insured Shipping anywhere within the Continental US. Overseas/international orders receive discounted shipping & will be quoted individually for your approval before we charge you or ship.

Style 1: Wisdom Light Heavy Duty Singing Bowl CASES, Softside (8″-22″ Bowl Sizes, Vegan)

Premium Quality and  High-Technology Toughness

 
Provided at a Value Price AND Receive 

FREE SHIPPING

*
BestBowls.com is proud to offer you Crystal Bowl cases that you will be able to trust for sturdiness and durability for years to come. You will also be amazed at our quality and features for the price, especially compared to other options you may have seen on the market.

You'll love how sturdy and well made our cases are,  how tough the material & high-quality the craftsmanship, how classically sleek & easy-to-clean the look and our selection of sizes. 

Like fine luggage, our cases include quality details. But, we  do so at our on-line discounted, direct-to-you value pricing.
Since our introduction of these wonderful cases, we have received continuous rave reviews and much delight from Bowlkeepers around the world. Appreciation for the price at which we offer them has also been gratefully received! 
Quality Details & Special Features of all our Softside Heavy Duty Cases:



All cases have an integrated multi-layer construction of DX-Core to provide the stiffness of two layers of high-impact foam padding plus the softness of premium-grade Sherpa Fleece lining. Protection and durability is assured on all sides.
Padded, ergonomic handles vertically mounted on seam. Both handle and seam are doubly secure by the former being stitched to the seam's heavy duty breaking strength webbing.
Webbing Handles and Seams: High level breaking strength giving enormous load carrying capacity (for those of you who insist on nesting your bowls!)
We use patented DynaZip zipping system to make it easier to insert and remove the bowls. These heavy duty, easy-pull double zippers open from either side AND have an ingenious cutaway design that doesn't just travel along the diameter of the case, but down both sides of the cutout as well.  It is like 'unfolding' your case to lift your bowl in/out.
Exterior Material: Heavy duty, tightly woven fabric doesn't show the dirt, catch on anything and is easy to clean (and personalize if you want with fabric paints!)
Special tear-drop design allows for snug fit of the bowl yet offering an area for your accessories on the interior.
Stitching Thread: Bonded nylon that doesn't deteriorate and holds the case together even if an area of stitching is breached.
Double Stitching: To first complete the wall and two ends separately and then to join them together, giving twice the security at the corners and edges for greater durability and protection.
We also offer this case for your GONGS. Just call and ask!
The 2 sizes for bowls 8-12″ typically fit under most plane seats and in overhead carryon compartments.
Have you given someone a crystal bowl as a gift? A high-quality carrying case would be the perfect accessory to that crystal bowl and great follow-up gift!
Style 2: Wisdom Light Black Hard-frame Case for 6-8″ Diameter  Bowls (Vegan)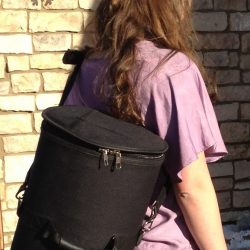 Item #BC-HFAW is one of our most popular cases & a real value for the money.  This case is for your singing bowls up to 8" diameter. It was designed for our Handled Bowls (Atlantean Wand(TM) & is very popular with our customers to protect their special handled singing bowls.  It can also be used, however, to stack 2 bowls. 
Attention to detail seen in all our other singing bowl case designs can be found in this style of case as well:
Rubberized bottom & Rubberized 'curb edge' on lower exterior for moisture protection & easy cleaning
Double, heavy duty  zipper for sturdiness & easy opening
Multi-featured, premium detachable, adjustable Shoulder Strap with no-slip shoulder pad & holster for your playing striker
Interior crushed velvet lining for protection of your optically clear smooth side bowls. 
Full protection on ALL sides—top, bottom & sides!
Versatility: can be used for single handled bowl or 2 small standard singing bowls or stacked Tibetan bowls.
Travel Friendly: Fits in most airline overhead bins as carry on 
Our metal and hardframe cases are exclusive Wisdom Light designs and sold to you at Wholesale Direct Prices. 
*ALL OUR BOWL CASES RECEIVE FREE PREMIUM SHIPPING within the Continental US and Discounted international shipping. 
That's a lot of $$$ saved by you on these bulky items!
---